Apple to bring 70 new emojis with software update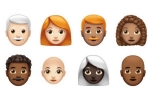 More than 70 new emoji characters are coming to iPhone, iPad, Apple Watch and Mac later this year in a free software update.
As told by Apple, the new emoji designs, created based on approved characters in Unicode 11.0, include even more hair options to better represent people with red hair, gray hair and curly hair, a new emoji for bald people, and new smiley faces that bring more expression to Messages with a cold face, party face, pleading face and a face with hearts.
Joining the growing list of animals represented on the emoji keyboard will be beautifully designed characters for the kangaroo, peacock, parrot and lobster, with the addition of new food emoji for mango, lettuce, cupcake, moon cake and other popular items. Many additional characters across sports, symbols and more, will launch later this year, including a new superhero emoji, a softball, nazar amulet and infinity symbol.
Thousands of emoji are currently available on iOS, watchOS and macOS, including emotive smiley faces, gender-neutral characters, various clothing options, food types, animals, mythical creatures and more. Since the trend of exchanging online text messages through apps and inbuild messengers started to skyrocket, emojis have acquired a unique importance amongst message senders and receivers. Reducing the effort of typing a long message to express an emotion or feeling, these little pieces of graphics act as companions for many.