PM Modi says, 'Vikas our only agenda' in Jaipur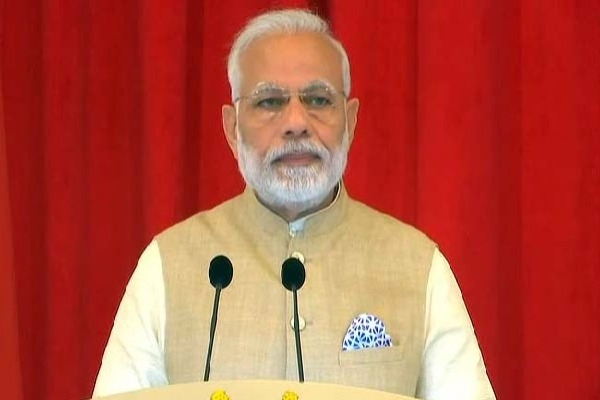 Jaipur: Prime Minister Narendra Modi hailed Rajasthan CM Vasundhara Raje's governance in the state in a public rally held in Jaipur on Saturday.
PM Modi said, "I am seeing first hand how Rajasthan welcomes people to their state. There is great enthusiasm here. People should come here to see the true picture of the progress the state has made in the last few years. The way the programme in Jaipur has been organised is commendable. Hearing beneficiaries is wonderful." Also, Modi hailed state's contribution to the country, saying, "There is something very special about the land of Rajasthan. This is a land of courage. Be it living in harmony with nature or defending our nation, Rajasthan has shown the way."
"Never forget the tough circumstances in which Vasundhara Rajeji took oath in 2013. When she took oath, systems were not working properly. She has changed the work culture in the state," Modi said. "There are some people who will never appreciate good work done, be it by the Centre or by Vasundhara Raje BJP Ji but everyone must see the happiness of the beneficiaries here, he said. The Prime Minister spoke on Abhinav Yojana Mukhya Mantri Jal Sawavlamban Abhiyan launched by state government. Under this scheme, 3,50,000 water conservation resources will be constructed in state in three phases to collect water and more than 88 lakh saplings will be planted near them.
The Rajasthan government is spending over Rs 7 crore to ferry beneficiaries of welfare schemes to a rally which PM Narendra Modi will address in Jaipur, according to an official order. The money for this will largely come from funds for the schemes. The administration expects a gathering of about 2.5 lakh beneficiaries of 12 schemes run by the BJP governments at the Centre and in the state, where the party faces a crucial assembly election later this year. Elaborate security arrangements have been made in view of the PM's day-long visit. The administration has detained some members of 'Berojgar Sangh' to prevent them from staging protests to disrupt the rally. more details are awaited.